Discovery | Delivering equity
A cost-effective spoken and activity-based individual assessment and recruitment tool
for organisations to use themselves.
What is Discovery?
Organisations both in the for-profit and non-profit sectors, have finite resources for recruitment and training. Many also want to encourage diversity and inclusivity. Often too, particularly in regional and remote areas, organisations want to engage people local to their business or operation. Discovery enables organisations to achieve these goals themselves.
Discovery has been designed to enable people keen to work yet whose first language is not English and have not been in work or able to supply a record of their work history to successfully put themselves forward. Discovery uses aptitude as an indicator of a person's ability. It is a culture and language fair tool.
Discovery is a spoken and activity-based tool that gathers information and life experiences relevant to work and training in a way that is inclusive, participatory and non-threatening. Participants undertaking Discovery are guided through a series of activities demonstrating their current abilities across 17 common workplace behaviours including motivation, information processing, thinking, reasoning and creativity and are assessed for workplace literacy and numeracy.
The process works with young people from primary age (within a school/ teaching context) to older students to men and women across all ages and backgrounds.
Discovery is a stand-alone and contained assessment tool that is implemented by organisations themselves.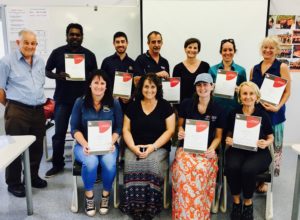 Implementing Discovery
Discovery is taught through a Workshop or one-on-one coaching to an organisation's own nominated facilitators. Participants learn, practice and implement all aspects of Discovery including assessing applicants for a training or employment opportunity. At the end of the training, the client is provided with a Discovery Toolkit which includes all the necessary instructions, materials and resources to implement Discovery in their organisation independently and on an on-going basis.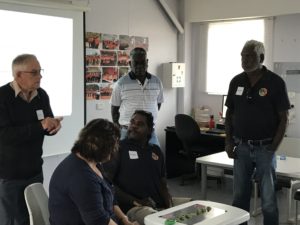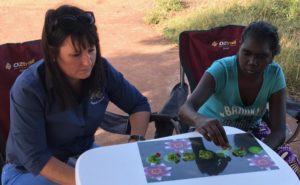 Discovery then becomes one of the organisation's assessment and development tools to help inform training organisations and/or employers and/or service providers about potential trainees, employees and providers for specific recruitment, training or supplier opportunities.
Benefits of Discovery
For organisations Discovery delivers immediate and long-term benefits. These include:
an alternative cost-effective fully contained assessment and recruitment tool to add to their existing systems;
a tool to successfully foster greater diversity and inclusivity in the workplace;
a process that can be used to enable organisational development growth with existing team members better matched to suitable training opportunities;
training for an organisation's own nominated team members developing their own skills with the ability to train others from within their organisation;
a robust and tested methodology to engage with the local community, potential trainees and/or employees and their families;
a mechanism to foster positive social change.
For participants Discovery also delivers many benefits. These include:
building a personal portfolio of an applicant's inherent aptitudes and learned skills related to common workplace activities;
giving a clear indication of the applicant's English literacy and basic numeracy in the context of training and/or employment;
improving an applicant's understating of the organisation and the opportunity available;
establishing a good foundation for further conversations with the applicant and the organisation;
enabling the applicant to give insights to culture and experiences that maybe new to the organisation and their Discovery facilitators; and
growing the applicant's confidence and pride.
Discovery works
Discovery is an effective business tool that also fosters positive social change. The concept grew from a long-term project in the mining and extraction industry as part of our Development services. Our experience with our methodology and the adaptation of the tool and now, as a transferrable stand-alone and contained tool for organisations to implement themselves, has been consistently successful both for individuals and organisations. It changes lives for the better.
"We are committed to local employment and Discovery supports this. We have used Discovery for the Gulkula Regional Training Centre recruitment and now have the skills in-house for future intakes. We were really pleased with the result and the Traditional Owners were well equipped to make the final selection."
Klaus Helms, CEO, Gumatj Corporation
Case File:
Discovery at work: Bringing forward young leaders
Traditional Owners adopt Discovery, an innovative selection process, for their new training centre.
For organisations, investing in people is a significant and ongoing undertaking. Done well, it benefits everyone. This is what Gumatj Corporation in the Northern Territory, Australia, has just successfully done using our Discovery tool.
Discovery is an aptitude-based assessment process that estimates a person's potential based on specific workplace behaviours and skills. It gathers information and life experiences relevant to work and training in a way that is inclusive, participatory and non-threatening. It is language and culture fair. For employers, Discovery can improve and diversify an organisation's capability and performance while reducing costs and risks. The methodology is used for individual assessments and, to understand how these individuals are likely to operate within a team environment.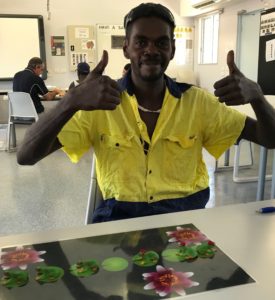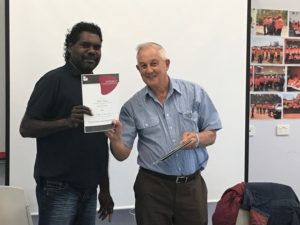 In 2017 Gumatj Corporation established its own training centre, the Gulkula Regional Training Centre. The Centre provides practical and certificate-level training to enable young Yolngu men and women to gain the foundations to successfully move into employment and further training with Gumatj and other regional employers.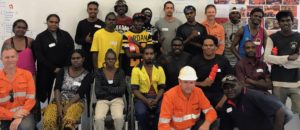 For its first intake, Gumatj Corporation knew it needed to know as much about each applicant as possible to confidently match appropriate training and opportunities. That is why our Discovery tool was selected. Turnstone Projects worked collaboratively on-site with a local team including Traditional Owners and service providers to design and deliver a comprehensive culturally appropriate recruitment process. We also transferred the skills to allow locally based organisations to undertake future intakes using Discovery themselves.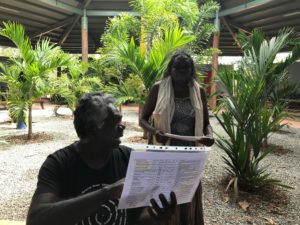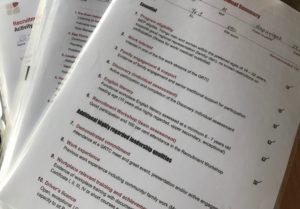 Our services included:
Collaboratively developing a detailed implementation plan on all matters recruitment-related;
Developing and implementing the recruitment communications and monitoring strategy including preparing materials, managing and posting on all social media platforms and producing a short digital story on the recruitment process;
Interviewing, recording and preparing a series of short promotional videos by Traditional Owners to promote the Gulkula Regional Training Centre;
Undertaking extensive visits across north east Arnhem Land to share and talk about the training and employment opportunities for young people with potential participants, their families, employers and service providers. This resulted in 89 applications for a shortlist of 20 people;
Training five locally based organisations (15 participants, four of whom were Yolngu) in the practice and philosophy of Discovery during a three-day workshop (with a 91.4% approval rating). Participants from Gumatj Corporation, Charles Darwin University, East Arnhem Regional Council, Laynhapuy Homelands Aboriginal Corporation and Miwatj Employment and Participated have become Discovery facilitators, all with the capacity to use Discovery to achieve lasting positive change;
Completing or overseeing, 63 individual Discovery assessments;
Managing and implementing two two-day residential recruitment workshops to assess potential participants for their team skills (35 attended); and
Consolidating all the individual data from each applicant and provided a two-page comprehensive summary to the Traditional Owner selection panel.
Recruitment was completed for a 14 August 2017 start date for the Centre. Ten participants were selected to complete the training and all 10 have now successfully completed their on-site training and practical experience at the Gulkula Regional Training Centre managed by Charles Darwin University.
As to what the Discovery participants thought, they generously shared their story about Discovery.
"We [CDU] have been really delighted with the calibre of the participants, how they interact with each other, how thoughtful and focussed they are. It is a first for us to start a training program with such a cohesive group and for us to know so much about them individually."
Barbara Cram, VET Executive Officer, Charles Darwin University