Asset-based community investment attraction
Our investment work helps community representatives and groups develop a considered, relevant
and practical investment strategy from within.
We assist by developing tailored instructional guides to identify and audit the area's existing assets, understand the culture and values and identify potential industries, services, businesses and projects for expansion, investment and partnerships. This area of work connects into our Grantlines service. Our approach requires significant community participation and the service can be provided remotely or by visiting a community. The approach ensures revisions and updates can be done locally as new opportunities emerge.
Case File: The City of Fremantle
Turnstone Projects was commissioned by the City of Fremantle
to assist with the development of its first Investors' Guide.
The Council sought the assistance of Turnstone Projects to provide mentoring support to a member of Council staff during preparation of its investment guide.
Our major contribution to this project was the development of a step-by-step working paper for use by the Council staff member. This contained detailed ways to source specific sector-related investment material directly from existing businesses and operators, including service providers. It also gave indicators for targeted research and advice as to how best structure and present the guide to investors.
To do this, the working paper was presented in four distinct parts: the interviewing process; managing the material; interviewing and material collection by investment sector; and presenting the material to investors. While our work was specific to this project, it was also presented to act as a model for other mentoring roles in the investment attraction field within the Council.
Our approach achieved the Council's goal. In July 2012 the City of Fremantle launched the Fremantle Investors Guide: a contribution to helping achieve the City's investment priorities; and for the staff member, new skills and experience around investment attraction.
The City of Fremantle engaged Turnstone Projects to mentor a member of the City's economic development team to produce an Investors' Guide for Fremantle.  Through this mentoring approach - which included helping define the project scope, identifying targeted industry sectors, detailing research requirements and supporting methodologies - the skills and the confidence of the team members was significantly enhanced.  Turnstone Projects understood and supported the mentoring approach desired by the Council and the result was an Investors' Guide of the required depth and quality with a team member proud of their efforts and eager to take on further complex tasks and responsibilities.

Other publicly released investment related publications are: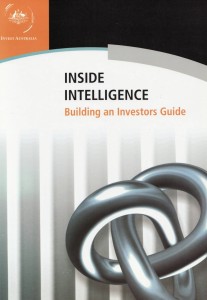 Download PDF:
Inside Intelligence: Building an Investor Guide
Rebecca Iliffe worked as a key player in the new business case analyses for the Pratt Water Murrumbidgee water saving project. This important work examined new investment opportunities for utilising water saved through management interventions in the Valley. Her ability to communicate business ideas in a clear and concise way greatly assisted the project team and the final report-development task.