Project and program development services
Our development work helps ideas and concepts become practical projects, processes and programs to bring about the sought after change in a way that is most suited all involved.
Turnstone Projects assists companies and organisations with specific opportunities as they engage with or expand into a new area or community. Often it involves behind the scenes and on-the-ground research to understand the local opportunities and issues. The research is written in a way that is accessible to a wide range of audiences.
This approach fosters participation and collaboration. Clients then make decisions mindful of local priorities, values and considerations. Turnstone Projects usually continues its involvement to develop the strategies for implementation. Often this connects into the Grantlines approach as projects gather interest and come to fruition.
Case File: HEART | A new approach to employment training in Arnhem Land
Miwatj Employment and Participation (MEP) commissioned Turnstone Projects to help implement its new training program, HEART, throughout 2015. This followed Turnstone Project's preparation of the HEART Program Plan.
MEP is the Australian Government's Community Development Programme provider based in Yirrkala. The aim of HEART was to take training into the Homelands is to help build a supported and encouraged larger young Yolngu regional workforce with practical and relevant skills. The skills transferred were to be flexible, transferable and adaptable both within their community and for employers.
HEART was implemented over 12-weeks in four stages.
Recruitment including community meet and greet, applications, an individual Discovery session with participants, recruitment 2 day workshop (1 week equivalent).
Training: Certificate I in Resource and Infrastructure Operations, First Aid, White Card in Construction and delivery of a nominated community project (4 weeks).
Work Placement at Gulkala working in the lead up to, during and close out of the prestigious annual Garma Festival with a range of employers across a wide range of industries (3 weeks). During this time, participants were recognised for their accredited training.
Work Placement Extension where participants nominated a preferred employer/activities to gain some further on the job experience (4 weeks).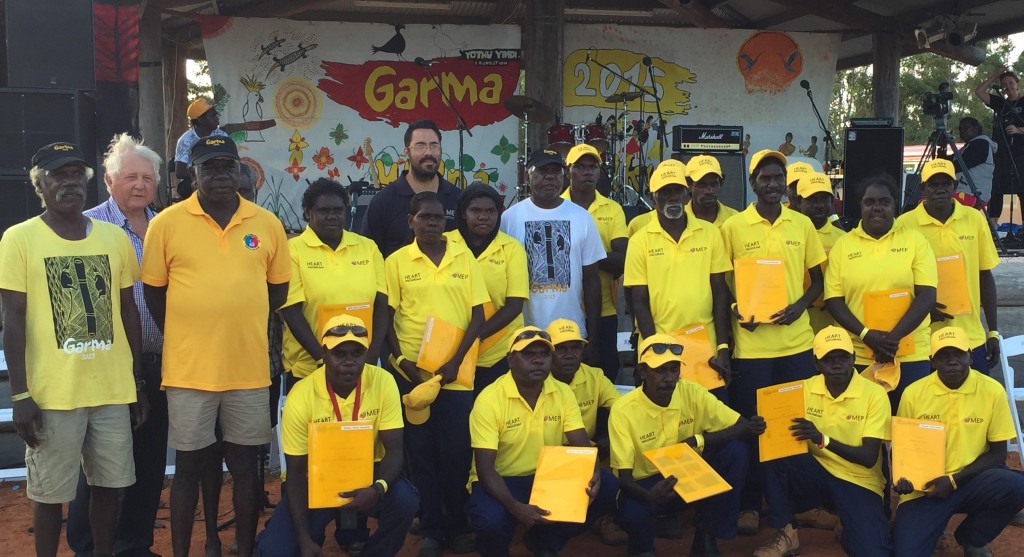 HEART was held from June to October 2015. Twenty young Yolngu men and women along with Yolngu mentors began the Program. All participants were placed with employers, many of their own choosing, for their final four-week block, Work Placement Extension. At the end of Stage 3, Work Placement, MEP took over the program management. Following the completion of HEART, a number of participants moved into mainstream employment and MEP managed activities.
The concept behind HEART and one of the main reasons for such strong Traditional Owner support throughout the development and implementation of the Program was that the training was to be delivered in a Homeland community. This design enabled the program to be residential for its first three stages. As a result, practice and coaching in the skills necessary to get to work and stay employed often called 'life skills' were embedded in HEART. Participants used the early mornings, late afternoons and evenings to attend Fitness for Work activities, participate in meal preparation and tidy-up, dorm/accommodation/grounds maintenance, laundry and personal hygiene.
Key features of HEART that contributed to its success were:
building and maintaining strong partnerships with the participants and their families, Traditional Owners, employers, among government, with service providers and philanthropy before and during HEART.
having the partnerships supported by a detailed, regular and well-planned
comprehensive communications strategy.
working closely with each participant on HEART and their families throughout the program. This started with a tailored Discovery session to accurately determine an individual's interest for work and training, literacy levels and numeracy skills.
implementing a staged recruitment process to ensure that participants were well assessed in a range of settings and through a mini residential program, they could make an informed decision about being part of the HEART journey.
delivering the behaviours and skills sought by employers including nationally recognised qualifications along with practical experience in a range of settings.
a Family Day celebration during Stage 2 giving families of the participants, Traditional Owners, employers and government the opportunity to support the participants, see their completed community project and celebrate their achievements (five weeks in).
holding Stage 3 (Work Placement) on traditional land at an important national festival, Garma, enabling participants to work with employers from industries including hospitality, retail, security and maintenance.
having employers host workplace visits for participants to become familiar with work options across the region.
including Traditional Owners and well respected community leaders to deliver motivational speeches to participants.
providing detailed reporting on a participant's progress and key achievements during HEART and providing this to employers to support a successful transition into work placement extension and ongoing employment.
During Stage 3 while working on site at the Garma Festival, the HEART participants wanted to share about what they had learnt, what they valued and their hopes for the future. This is their story:
Case File: Taking training to the young people
A new training and employment program in remote Homeland communities
Turnstone Projects was engaged by Miwatj Employment and Participation (MEP) to develop a training and employment program for young Yolŋu men and women of north east Arnhem Land's Homeland communities in late 2014.
This project built on earlier work by Turnstone Projects in Arnhem Land with Traditional Owners, Elders, Indigenous organisations, business, industry, government and the education sector which led to the development and implementation of the ALERT Indigenous training and employment program based in Nhulunbuy. MEP, the Australian Government's appointed Remote Jobs and Communities Program provider, sought to bring elements of the successful ALERT program and its work ready preparatory program, Ralpa, to people living in remote Homeland communities. The in-Homeland training provision respects the advice and wishes of families, Traditional Owners and Community Elders to see their young people trained in a safe and familiar setting where they can be involved and contribute. Implementing a new program requires widespread support and investment. To gather support, discussions were held with: Traditional Owners; Elders; potential participants and their families; representatives from education, government and service providers; and employers.
Listening to and talking with a wide range of people from some of the major and remote Homeland communities including Yilpara, Wandawuy, Garrthalala, Dhalinybuy, Yirrkala, Gapuwiyak, Birritjimi and Gunyangara was critical for the program's development. Similarly was the importance of visiting employers, many at their work place, to discuss opportunities and requirements. Employers all spoke of their willingness to provide on the job training should workers be: keen to come to work; have a good attendance record; be able to talk about their experiences and provide examples of family, community and/or work participation; and have all personal paperwork in order.
The advice, recommendations and ideas from the meetings, combined with solid data from eight years of detailed recording through the ALERT Program along with further research led to the development the HEART Program, a Homelands specific training and employment program. The implementation plan was provided to MEP in January 2015.
The program outcome is to build a well supported and encouraged young Yolŋu regional workforce with practical and relevant skills that are flexible, transferable and adaptable both within their community and for employers.
Over 12 weeks, people between the ages of 18-25 are given the opportunity to become work ready with professional and integrated training combined with real life work experience leading to placement in the workforce. The demographics of the region mean there is significant potential to be gained by harnessing this age group in a culturally appropriate and meaningful training and employment program.
Within the participant group there will be different experiences and to capture, nurture and ensure continued development for each participant, some participants will be participant mentors with greater responsibility. The participant mentor role will support the training, work placement and employment components.
During the program participants are required to give back to their community by undertaking an important and beneficial community project demonstrating their capabilities and commitment within their community.
There are four essential stages to the program, these are: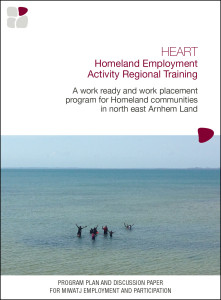 Recruitment, workshop and participant assessment (equivalent of 1 week)
Training delivery, Certificate I with practical project application (4 weeks)
Work placement at Gulkala (equivalent of 3 weeks)
Work placement extension with employers (4 weeks)
At the conclusion of stage 4, MEP, employers and participants will work together to help transition program participants and participant mentors into ongoing employment. Ideally this will be in small teams where they already have experience.
The HEART Program seeks to engage school leavers and young adults in meaningful training where a variety of employment outcomes exist. By taking the training to the Homelands, a new cohort of people will be able to access services and support. It will both contextualise the training in a Homeland setting, where skills learnt can be applied to the care and maintenance of their community and build confidence and capabilities for employment across the region. This program has the potential to help develop the current and future generations of employees, employers, business owners and community leaders. The first intake will be in the dry season later in 2015.
Case File: The ALERT Program
An Indigenous training and employment program in Arnhem Land
Eight years on since ALERT, an Indigenous training and employment program for north east Arnhem Land, was launched its influence is spreading and creating new opportunities and collaborations.
Turnstone Projects was commissioned in 2005 to help design ALERT, a new Indigenous employment program. The project's original brief was to provide young Yolŋu men with the training and experience necessary for employment in long-term permanent mainstream jobs. The program now includes women and is open to Indigenous people interested to work in north east Arnhem Land. The development of ALERT followed earlier work from 2001 when asked by then mine and refinery owners Alcan Gove, in cooperation with the Australian Government, to consider short and long –term issues for investment attraction in the region.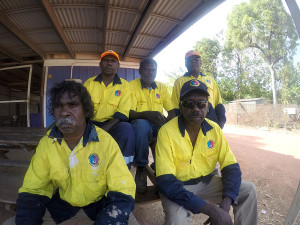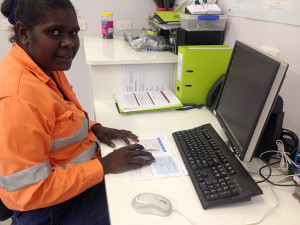 Developed over two years with detailed consultations, regular advisory meetings with Traditional Owners and Elders, substantial engagement by government, business, the education sector and local employers, the program commenced in 2007. It was designed as an integrated and thorough training program providing participants will experiences and skills to enable them to work across a range of industries.
In the years since, graduates are now in a variety of workplaces, strengthened by local Indigenous investment in business opportunities and complementary programs are now increasing the potential for more young people to participate. ALERT has also changed in its structure and has adapted to new demands in part informed by the experiences of its participants and graduates learned through its very intensive and individual approach.
In 2013 the ALERT Program introduced its Ralpa course. Ralpa (a Yolŋu term meaning to get moving) is a preparatory work ready program. Its development has enabled a new group of people to enrol in the shorter course and from there move to ALERT or into established trainee/work experience opportunities with regional employers.
Seeing the success of ALERT and especially Ralpa in developing and encouraging greater workforce participation by young Yolŋu men and women, Miwatj Employment and Participation (MEP) identified a need for a similar program in Homeland communities. MEP commissioned Turnstone Projects in late 2014 to help design a complementary training and employment program for the Homeland communities. The result was the HEART Program and is currently being implemented.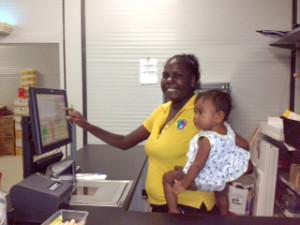 Turnstone Projects supplied us with a range of valuable professional services, including advice and support to develop a new program for Indigenous training and employment for our Gove site, assistance with government and community strategies and preparing Social Impact Assessments. Turnstone Projects has always been professional, trustworthy, efficient and effective and worked with us over many years.