Case File: Taking training to the young people
A new training and employment program in remote Homeland communities
Turnstone Projects was engaged by Miwatj Employment and Participation (MEP) to develop a training and employment program for young Yolŋu men and women of north east Arnhem Land's Homeland communities in late 2014.
This project built on earlier work by Turnstone Projects in Arnhem Land with Traditional Owners, Elders, Indigenous organisations, business, industry, government and the education sector which led to the development and implementation of the ALERT Indigenous training and employment program based in Nhulunbuy. MEP, the Australian Government's appointed Remote Jobs and Communities Program provider, sought to bring elements of the successful ALERT program and its work ready preparatory program, Ralpa, to people living in remote Homeland communities. The in-Homeland training provision respects the advice and wishes of families, Traditional Owners and Community Elders to see their young people trained in a safe and familiar setting where they can be involved and contribute. Implementing a new program requires widespread support and investment. To gather support, discussions were held with: Traditional Owners; Elders; potential participants and their families; representatives from education, government and service providers; and employers.
Listening to and talking with a wide range of people from some of the major and remote Homeland communities including Yilpara, Wandawuy, Garrthalala, Dhalinybuy, Yirrkala, Gapuwiyak, Birritjimi and Gunyangara was critical for the program's development. Similarly was the importance of visiting employers, many at their work place, to discuss opportunities and requirements. Employers all spoke of their willingness to provide on the job training should workers be: keen to come to work; have a good attendance record; be able to talk about their experiences and provide examples of family, community and/or work participation; and have all personal paperwork in order.
The advice, recommendations and ideas from the meetings, combined with solid data from eight years of detailed recording through the ALERT Program along with further research led to the development the HEART Program, a Homelands specific training and employment program. The implementation plan was provided to MEP in January 2015.
The program outcome is to build a well supported and encouraged young Yolŋu regional workforce with practical and relevant skills that are flexible, transferable and adaptable both within their community and for employers.
Over 12 weeks, people between the ages of 18-25 are given the opportunity to become work ready with professional and integrated training combined with real life work experience leading to placement in the workforce. The demographics of the region mean there is significant potential to be gained by harnessing this age group in a culturally appropriate and meaningful training and employment program.
Within the participant group there will be different experiences and to capture, nurture and ensure continued development for each participant, some participants will be participant mentors with greater responsibility. The participant mentor role will support the training, work placement and employment components.
During the program participants are required to give back to their community by undertaking an important and beneficial community project demonstrating their capabilities and commitment within their community.
There are four essential stages to the program, these are: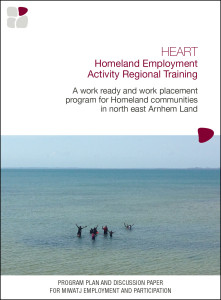 Recruitment, workshop and participant assessment (equivalent of 1 week)
Training delivery, Certificate I with practical project application (4 weeks)
Work placement at Gulkala (equivalent of 3 weeks)
Work placement extension with employers (4 weeks)
At the conclusion of stage 4, MEP, employers and participants will work together to help transition program participants and participant mentors into ongoing employment. Ideally this will be in small teams where they already have experience.
The HEART Program seeks to engage school leavers and young adults in meaningful training where a variety of employment outcomes exist. By taking the training to the Homelands, a new cohort of people will be able to access services and support. It will both contextualise the training in a Homeland setting, where skills learnt can be applied to the care and maintenance of their community and build confidence and capabilities for employment across the region. This program has the potential to help develop the current and future generations of employees, employers, business owners and community leaders. The first intake will be in the dry season later in 2015.