I knew a little about the growth and diversity of Men's Sheds but visiting one gave me a whole new perspective.  An invitation to the Adelong Men's Shed, a member of the Australian Association of Men's Sheds, was not to be missed.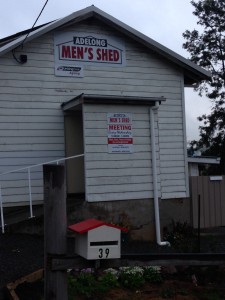 The Adelong Men's Shed in the Tumut Shire is a place primarily for men while welcoming and inclusive of the broader community.  It is a productive space, income generating, a community service, a garden, a place of mentoring, training and host for a mental health rehabilitation program for men of all ages.  On a cold wintery morning the warmth of the fire and those inside made for an informative and memorable visit.  The Shed feels familiar.  It is reminiscent of many sheds I have been into working on properties.  It is well organised, tools are in their place as are the templates for making toys and furniture.  Work areas are compact and efficient.  There is a tidy kitchen area and resting on an old wooden shelf is a beautiful whole pumpkin making it seem all the more homely.
The philosophy of inclusion, respect and independence for its members has created a warm, generous and sought after place.  As one man put it 'we have no false goals, we are in a managed decline and want to make the best of it'.  The sense of pride and ownership felt by members has extended to successfully hosting outreach services and clinics (called 'pit stops').  It is helping develop a culture of health and well being among men in the community.  The direct benefit of these activities and the outreach services clearly go beyond the individuals.  It extends to their families and the community.
The success of the Shed means an expansion is needed and one is planned.  This is for a purpose-built machinery/work shed adjacent to the existing facilities.  This will separate the machining/power tools operations from the current space which is shared between providing a work room and social/meeting space.  A dedicated team of individuals are currently grant-seeking for their 'ideal shed'.  They have costed all requirements to a modest level and then as the men say 'we'll take it from there and add our luxuries … it will be the shed each of us always wanted'.  While a majority of the money is being sought through grant seeking there are also individual private donors, some of these are members, who are keen to assist should the project come to fruition.
To ens
ure an outlet for their prod
ucts, and in the spirit of community building, the Men's Shed is a proud supporter of Rustic Creations.  It is a double fronted shop in the main street of Adelong.
Rustic Creations provides a retail outlet for locally made products.  It sells items from over 70 locally based knitters, crocheters, sewers, wood workers, felters, blacksmiths, stonemasons, potters and others.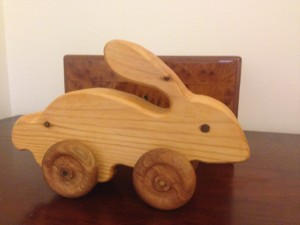 A detailed tour, morning tea with lively conversations including whether 'smoko' meaning 'morning tea'  is a good term to use on grant applications finished with me commissioning a small wooden rabbit on wheels for my youngest son.
Three weeks later the parcel arrived.  It was met with much delight.  It is a beautifully crafted handmade toy but it represents so much more.