I had Google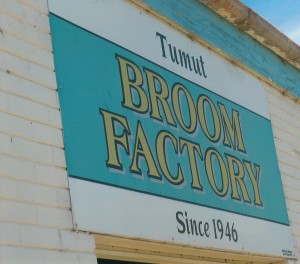 d the Tumut Broom Factory before arriving in town.  Actually, without its own website, I had checked a few links and was convinced it would be there … and open.  After all, it had been there since 1946. Arriving in town in the evening, my visit would have to wait til morning.
On a beautiful sunny morning in Tumut, there was plenty to see and do early  on.  With my work appointments a little way off, the adventure playground was a must for my three year old as were some of the walking trails and a visit to survey the town from the lookout.  By now, the business day was getting underway and it was time for the Broom Factory.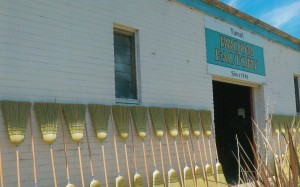 It changed from closed to open in a moment as two four wheel drives parked, head to head in the short semi circle drive-through gravel driveway.   Then the brooms emerged.  A little unsure if visitors were welcome, we walked up to the factory door.  The Broom Factory is across the road from the Visitor's Centre and I knew there were brooms there too, but I wanted to see the factory itself.  We were greeted in a matter-of-fact way and invited to look around, mindful of the machinery and having a small person in tow.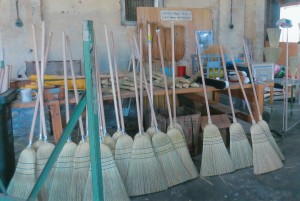 In the functional and old factory, the overwhelming smell was that of the locally grown and hand-harvested millet used for the centre of the broom.  The millet and straw were resting in bundles and the wooden handles propped ready for use.  There were brooms in various stages including those ready for delivery and those just starting the very hands on process of construction.  As production continued, we talked over the well worn and intermittently noisy machines.  There were brooms for all seasons and purposes: indoor, outdoor, a combination indoor and outdoor and to the delight of my son, a child's sized broom.  And as a former woolclasser and rouseabout, familiar with straw brooms in shearing sheds (and grateful for those ones that stayed in one piece) the Factory's biggest market remains with rural suppliers.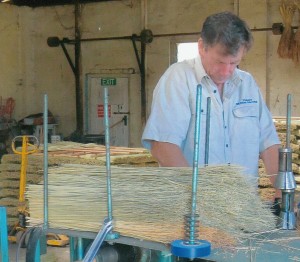 The millet used in the brooms, once all millet, now a blend of millet and straw, is grown locally, within the Shire.  While straw comes from elsewhere, the brooms have been made in Tumut for close to 70 years.  And the operators have not changed a great deal either.  The man we spoke to, and watched making brooms, had started there when he was 15, now in his late 60s, he had been away but since returned.
Naturally we shopped.  I settled on an indoor outdoor broom and my son bought his broom and one for his older brother.  Now at home we have the same sweet smell of millet and straw in the cupboard.  The brooms have been given a good workout and remain perfect.  My sons have also enjoyed their piece of Tumut and happily volunteer for sweeping and cobweb removal jobs.  While my broom is just as good indoors and out, it only ventures out under strict supervision, it's too valuable.
The Broom Factory is one of a number of business stories in Tumut and surrounds that demonstrate a commitment to provenance, promoting local, value adding and environmental care.  I'm pleased to be returning to Tumut for many reasons including the chance for a much needed outdoor broom.