On reflection, 'you should see my nuggets' was not that much of a surprising welcome to Charters Towers.  I had, after all, just come from the quaint and delightful Miner's Cottage where I was extremely pleased with my purchase for my eldest boy.  At 6 he is a keen rock and gem collector.  His most recent bounty was from Cobbold Gorge and Forsayth following an adventure on the Savannahlander with his grandmother.  Now it was my turn to add to the collection.  I was in Charters Towers for the annual Queensland Rural, Regional and Remote Women's Network (QRRRWN) conference.  This was the second time I had attended.  Last year it was in Blackall and along with my boys then 3 and 5, we drove from Sydney to Blackall via Cunnumulla and Charleville for a taste of the outback.  For both my boys this has instilled a love for and respect of rural Australia.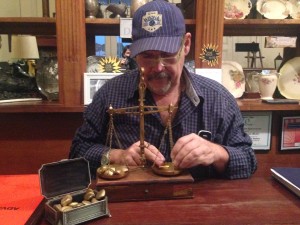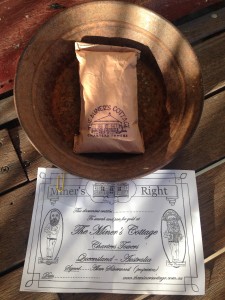 Coming away by myself this time meant I felt a pressure to take back an experience.  Thankfully the Miner's Cottage delivered.  My nugget invitation was from Tony from the Royal Private Hotel, my accommodation for the few days while I was in town.  An 1888 building lovingly and quirkily restored, it's beautiful cedar doors and long verandah spoke of another world.  To help understand this part of the world with its long history built originally from gold to war and agriculture, a glimpse of its modern industry was provided through the conference's industry tour.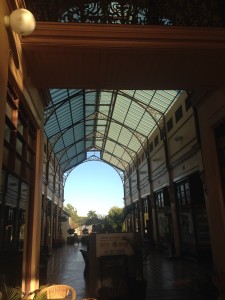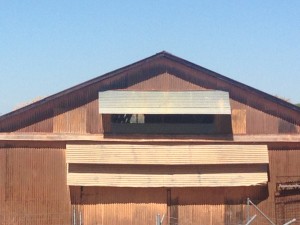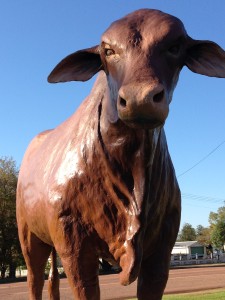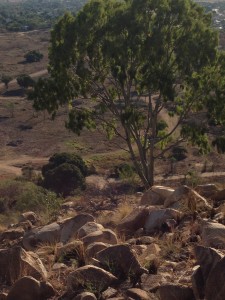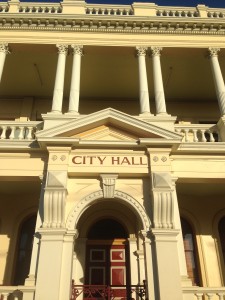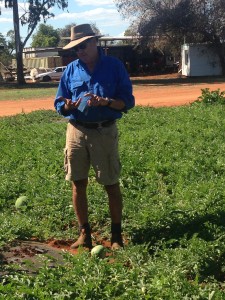 In September the country was looking a dry-ish to me given I'm not very familiar with Charters Towers but despite this, our destination was a watermelon farm.  Operated by the Caleo family, Selhein Park, also grows pumpkins, sweet potatoes and soon they will trial paw paw.  To do this they pipe water from the Burdekin River and use latest technology to irrigate, store and retain the water and technology to help manage the extensive crop.  As the largest supplier to Wool
worths in North Queensland and long term contracts with both major supermarkets it did surprise me to learn of the need to quote each Monday for the supply and delivery of the watermelons.  While just two weeks off the start of the first of many regular busy harvest times throughout the warmer months the requirement to have watermelons in store all year and the cold Charters Towers winter means the Caleo family imports watermelons from Katherine in the Northern Territory to maintain its supply contracts.
W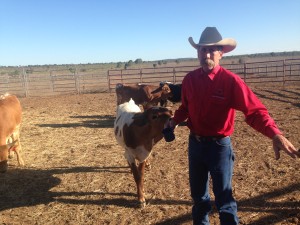 e also v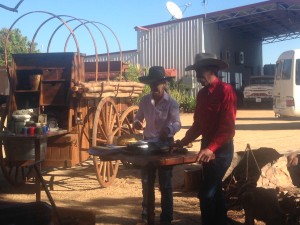 isited Leahton Park, a family business owned by Michael and Lynda Bethel.  A relatively 'small' property of 1,100 hectares by their own reckoning, it showcases their shared passion of Texas Longhorn cattle.  A very planned breeding program using only artificial insemination is testament to the planning and detail that goes into running the property.  Michael talks proudly of  their famous steer, JR.  His World Record reputation is built on his 9 foot 8 inches horns (yes all in American measurements).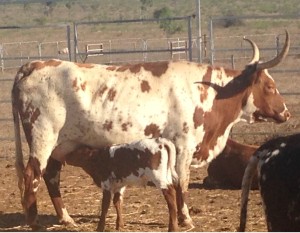 Michael said it did flush out other longhorn breeders but
JR still holds the title.  It is one example where size really does matter. While we didn't get to see JR, a cow, calf and some weaners were a welcome sight.  As was Penny, their friendly pet kangaroo that gently hopped around pleased for a pat reminding you that you were indeed in outback Queensland.  An original wagon, imported from the US and lovingly rebuilt, camp oven baked damper and billy (yes, a nice Australian tradition), a visit to their showroom where handmade saddles are crafted by Michael and then a wagon ride completes the experience.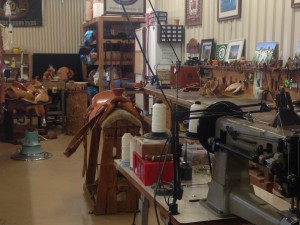 Their cattle however go further.  They are supplied to a range of people looking for specific traits including the Werribee Zoo and for some buyers their interest is to give the cattle a long healthy life where their horns grow as long as possible and on their death, become a wall trophy. Over $1000 for a trophy head is not an uncommon price.
It was then time for the conference and to meet women in many  different pursuits from across Queensland, Victoria and New South Wales.  The theme: connect; inspire; and network.  It did just that.  From a warm and a personal welcome from the QRRRWN President Georgie Somerset for coming again and also from the incoming President, Alison Mobbs to all the terrific women I met, there was certainly a strong commitment to connect and network.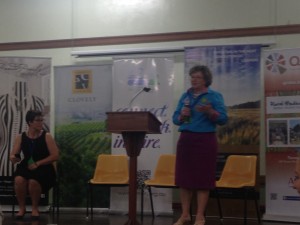 Inspiration came from many places.  Well known and highly regarded women in leadership positions in politics, agribusiness, rural enterprises and communities spoke and shared openly their challenges, hopes and their personal dedication to seeing a different future for rural women. Keynote speakers included Rural Industries  Research Development Corporation's Rural Woman of the Year Giovanna Webb from Crocodylus Park in Darwin with her own personal story and practical advice.  She spoke the requirements for the business to supply perfect skins to Hermes and Louis Vuitton for handbags starting at US$50,000 each and of the two to three year wait list just for a bag.  She spoke of the meat and in a true enterprising spirit, creating new opportunities working with primarily Indigenous women for the crocodile by-products. It was more than just the drive for value addition, it was to create training, employment and economic independence for these women.  She also encouraged us 'to have courage and laugh' in all that you do.  Advice also came from across the country including from Cathy McGowan MP travelling from her seat in Indi, north East Victoria.  Her advice, plan ahead and make it happen.  What rung true to many in the audience was her encouragement that local community committees and the need to challenge, cooperate and reach consensus for change is a perfect preparation for Parliament.  She would of course like to see more women join her.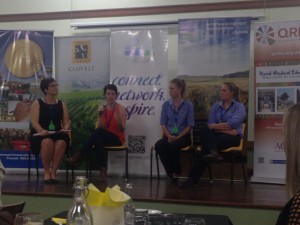 Ideas and inspiration came from all those there in the many and varied roles women hold in rural communities and those supporting rural communities.  Alexandra Gartmann CEO of the Foundation for Regional Renewal spoke of international trends that seemed very much to reflect the long term thinking of many of the women I spoke to including a growing interest in long term collaboration and influencing through small scale philanthropy.  Other women spoke about their professions and private passions.  This included Charters Towers based Liz Schmidt a business woman in livestock trucking and rural politics, Bec Gunther, beef extension officer in Cloncurry recognised for her work with a QRRRWN professional award and Di Morris talking of her experiences from Italy's Biella to the Banana Shire and her ideas for the 2015 QRRRWN Conference as a member of the coordinating committee.  All had personal stories to share and did so with a generous spirit.
Ideas, applications and questions also came from one on one or small group conversations with women from cattle stations far and wide, those working in rural health and well being, third year students, small business, scientists, Indigenous training and employment and those committed to creating closer and lasting ties between the country and city.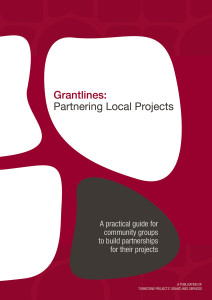 As someone who with rural and regional communities across Australia with companies, organisations and communities who have a shared interest to collaborate yet based in Sydney for family reasons, I felt very welcome.  There were connections made from a year earlier and we took off where we left off, helped of course by social media.  There were women from all over Queensland keen to establish long term partnerships and different approaches to collaboration to address the many complex social issues in the many towns and communities across rural, regional and remote Queensland.  Listening to Fleur Anderson from Evolution Mining responsible for community engagement and QRRRWN Board member, she spoke of the growth and value for both companies and communities by focussing on building long term partnerships to collaborate on projects that have shared value.  Having recently prepared a community guide to help groups build these foundations and have practical steps to do this it was wonderful to be able to provide the guide and some stories to the women at the conference as they sought ways to make their community more sustainable.
This conference particularly focussed talking about and identifying practical ways to tackle challenging issues and develop opportunities now but importantly also for the next ten years to ensure the energy and enthusiasm stays on track.  One practical way to do this was the launch of QRRRWNs Humans of the Bush Facebook page at the conference.  It is akin to the Humans of New York project.  It encourages individuals to post pictures and quotes of people to showcase the stories, diversity and delight that is rural Australia and by doing this, fostering closer connections. The conference did meet is purpose and if we remain committed, step up and keep our vision firmly focussed on a positive long term future, it can be achieved.
And back at home, my bush loving humans were delighted with their gifts and stories of pure gold.