Turnstone Projects was commissioned by Primary Ethics to undertake their first location specific research project in south west Sydney. The non-profit Primary Ethics is the NSW Department of Education's approved provider of a free in-school Ethics Program for primary age students, delivered by trained volunteers. Participants in this research described their ethics classes as 'a creative learning program for primary-age students to discuss life's big questions'.
Primary Ethics was concerned that across south west Sydney the uptake of their Program was lower when compared to that across the larger Sydney region. To find out the reasons why, the Fred Archer Charitable Trust administered by Perpetual Impact, generously supported this work.
Working alongside the Primary Ethics team, our role, spread over six months, was to determine if this was the case and if so, how awareness of and engagement with Primary Ethics could be improved.
The South West Sydney Schools Project was an eye-opening experience and helped me reflect on what we do as volunteers in a whole new light. I did not expect to gain so much insight and understanding from my involvement and would do it all again in a heart-beat.

Marbecc Webb, Primary Ethics Development Coordinator and volunteer teacher, Camden region


Our first task was to accurately define the region and then undertake detailed data and community research. The project area was broadly defined as the corridor extending from Parramatta west towards Penrith and south to Camden and Campbelltown areas, a total seven Local Government Areas home to over 1 million residents and 151 NSW Government primary schools.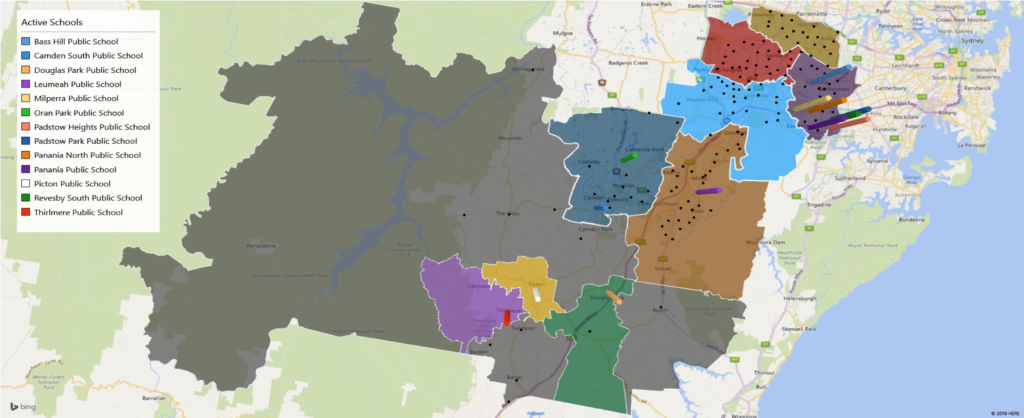 Research was conducted consistent with a detailed project plan supported by an engagement and communications strategy. Using an asset based methodology to include existing Primary Ethics volunteers at all stages of the research was a priority.
Forty-four current and former Primary Ethics volunteers and 18 in-area primary schools were invited to be involved through workshops, surveys and face to face meetings. Contributors were kept informed of progress by regular electronic newsletters. The short project updates had an average open rate of 77.4% and from an initial subscriber base of 35, this increased to 67 by the fourth and final edition, a 91% growth rate.
At the end of the study, April 2019, 23 schools were in active management, a total 15.02% of all in area schools up from the initial finding of 7.95%. 
This was in part due to the release of new NSW Department of Education enrolment practices and because the research identified every foreign language spoken by 1% or more of residents. Ethics enrolment forms were then translated into the 23 relevant languages.
The SWSP is a culturally and linguistically diverse region with people reporting up to 38 nationalities in Cumberland Council Local Government Area alone.  English as a first language, English as a second language and proficiency and confidence levels across the Project Area vary significantly.  Residents speaking English and a second language in Cumberland is 49.34 per cent or 82,968 people and those speaking no English is 14.78 per cent, 24,860 people. 

From South West Schools Implementation Plan, April, 2019


The research also articulated administrative and management challenges for schools and volunteers, some of which could be amended and piloted during the course of the research creating immediate and significant positive change.
Recommendations
In all 42 recommendations were presented in the 20,000 word Implementation Plan along with templates for benchmarking, surveying, reporting and facilitating best practice. During the project all volunteers felt fully able to express their opinions and contribute their ideas and 83.3% of participants felt they were 'always' or 'almost always' kept up to date on developments over the six months.
It would be great to see these changes and to know we were a part of it.

Volunteer feedback during the review workshops, March 2019, Canterbury-Bankstown


For more on the project see: https://primaryethics.com.au/2019/04/29/research-supports-growth-of-ethics-classes-in-south-west-sydney-schools/