Establishing a market to sell, swap and showcase the produce grown by the Canterbury Public School (CPS) students in Sydney's inner west made sense.  It made even more sense after a pilot market to encourage those within the school community – students, parents, carers and teachers – to bring in any surplus home-grown or homemade produce to swap for something else.
School produce was already being used in the Parent and Citizens (P&C) run canteen but with increased student involvement, productivity was on the rise.  Another outlet was needed. A regular market could fill that need. Early in the school year, a growing number of students were coming to the garden's Green Thumbs after school program. The senior program catered for older students (Years 3-6) and was called 'No Waste!'.  By third term, membership of this group had increased by a further 50 per cent.  In the Junior Green Thumbs, members rose from 2013 and by October 2014, there was a further increase of 35 per cent in regular attendees.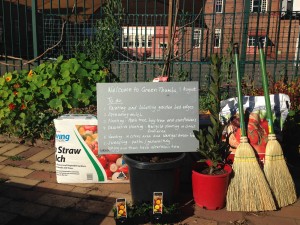 There was also more engagement in the garden during school hours with classes increasing and diversifying their involvement.  The market idea sought to strengthen and broaden the capacity for education, value adding and create a model that would be self sustaining. Doing this meant that students felt ownership of their gardens.  It showcased the work of the students, promoted healthy eating and the importance of sharing a meal together. It aimed to contribute to a strong sense of community by those who could help in any way at all. Sometimes it was behind the scenes, at the stall itself  or to do whatever they can – no questions, no expectations, just gratitude.
The garden was established long before I was a parent at Canterbury Public.  In my first year when my eldest son was in kindergarten and, a Green Thumbs after school volunteer, I helped out.  By the end of my first year, we needed  to develop a business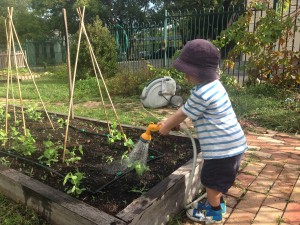 plan for the garden.  There are three gardens that are the focus of our activities: Indigenous; herb; and vegetable.  The garden is looked after by a subcommittee of the P&C and like most public schools, parent and carer contribution along with the many additional dedicated hours by teachers is an essential component to make the system work.  The market was the perfect opportunity to help develop educational outcomes and see a wonderful asset realised for economic and sustainability gains.
The initial idea was to raise $600 each year to contribute to the garden's maintenance, purchase small items of equipment and encourage greater use of the garden by making it a practical and much loved space within the school.  The dedication and energy of the school community with a call out by the School's newsletter, the P&C Facebook page and a very old fashioned but effective large blackboard asking for people to donate and then swap and/or buy realised $750 in the first three markets.  Five markets were planned for the first
year.  By the fourth market, the Year 2 and 3 students from Mrs Wright's class were making pesto from garden produce as part of their school day curriculum to sell.  This was complemented by theming the market to encourage contributors to share and swap ingredients to help make a simple healthy family meal.  These included homemade pizza dough, short crust pastry, homemade bread, school grown marinated olives, salad leaves and a good variety of greens.  It also caters for hungry students (and teachers) at the end of their school week with treats from 20 cents to $2 from the many talented quiet achievers who bake and create homemade delicacies, cupcakes and small savoury sensations.
Donations are left in the staff room before school or arrive just before the market begins.  On some market days it is like seeing the cavalry arrive with trays and containers just before the school bell rings.  It is a wonderful and
inspiring sight.  Our fourth market raised over $300 and at the same time, there was an increase in those donating and swapping.  It is wonderful to see the level of comfort around our 'give and take' principles, based on an honour system, really gaining acceptance.
Coordinated with one Green Thumbs each term, market shoppers and those who donate can harvest fresh produce with the students who volunteer their time on a Friday afternoon after the school bell.  There are no committee meetings to make the market work.  The two voluntary parent coordinators help in the set up (and increasingly this is being coordinated with school curriculum where students are taking the lead) and the requests and simple guidance are promoted through social media.  All contributions are welcome in any form as
long as the produce is: homemade, home-grown, school grown or school made.
Added benefits of the market are that they provide a creativity outlet, a place to showcase local talent and a regular way to connect members of the school community across ages, stages and cultures.  It is also building a focus where talented people who have a craft-based hobby or an interest in art and expression are finding ways they can contribute and be a part of this collaborative venture.  The donations themselves also have a growing following.  Those who buy or swap at the market seek out particular growers, bakers and makers.  To cater for this, produce is now uniformly labelled with a simple stamp and the names of the growers and makers added.
Students' ownership and sense of pride towards the gardens has increased significantly throughout the 2014 school year.  The markets have helped build an expectation of regular action.  This has extended into new garden-based projects particularly those that further the
potential to expand and strengthen the market culture.  One measure of this is the growth of student membership through Green Thumbs.  Another is the support, through effective student lobbying, to encourage other ways for family members to get involved.  While the markets enable
parents and carers to contribute including those who cannot be there on the day, an initiative, enabled with the money raised by the market, was a 'Blokes & Barrows' project to provide a forum to encourage the males in the family into the garden and market space working alongside the students.  It meant an incursion into normal work hours (2.30 – 4.30 pm) on a Green Thumbs Friday afternoon but planning, promotion through social media and more importantly by the students themselves, led to success.  With jobs planned, supplies at the ready using a small part of the market takings and determined capable little hands queuing up to help, it was a great success.  Five 'blokes' were needed and five blokes came.  The result
was that the strong foundations for an outdoor classroom were started. A small largely disused alcove was connected to the garden by paving and each student of the Junior Green Thumbs crew who wanted to, laid their own paver.
The market itself achieves only with strong support from across the school community.  Its implementation was gentle, staged and collaborative.  It reports back promptly after each market, declares takings, plans ahead and updates the school community regularly.  Each market is reviewed and its growth has only been possible by dedication and support from within.  The philosophy of the market is to respect the many and varied demand, and costs, faced by parents and carers.  If parents, grandparents, carers, teachers and students can donate what is growing in their garden or what they can make, it fosters inclusion and makes sense for a school community of different means.
As a small voluntary group made up of students, teachers, parents and carers, the market has enabled the garden committee to be self sustaining where market takings are returned to the gardens for the benefit of student education.  It has flexibility and some independence and with this, an ability to act when opportunities arise that help harness and further the committed efforts from all those across the School community.   The garden, and with the addition of the market, is a creative and innovative space, one where ideas can be shared, developed and implemented and talents celebrated.