When Canterbury Public School (CPS) in Sydney's inner west introduced a small regular market to sell surplus vegies and encourage homemade or home-grown donations in early 2014 to make the garden more self sustaining, it unleashed so much more.
The regular markets, renamed 'Canterbury Fresh' by the students, are now increasingly teacher and student led. Pop-up stalls have been introduced and takings in the second year are up by 25 per cent.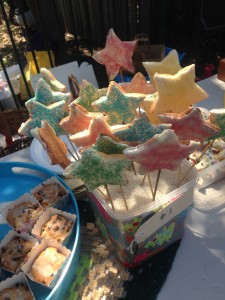 Our funds are boosted by families' generous donations of homemade and home-grown produce to supplement School grown and School-made produce. Our philosophy that if you donate, you swap it with something you need continues.
Increasingly, teachers are helping students bake goods to sell. At our 30 October market, our stocks were substantially improved with CPS Principal, Berlinda Cook (well known keen baker) working with a group of students with the result that freshly baked cakes and scrolls were ready in time for the market at 3.20 pm. This combined effort has created a sense of ownership and is helping fostering a strong community spirit.
Making connections between garden and classroom activities have also increased. The more after school student group activities of Green Thumbs and No Waste, both of which saw a big increase in attendance in 2014 and in early 2015 will increasingly be done during the school day.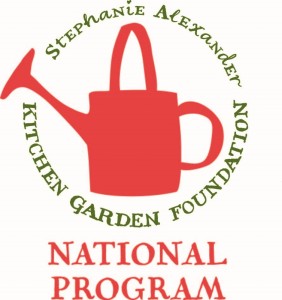 In April the School became a member of the Stephanie Alexander Kitchen Garden Foundation (SAGKF) National Program, joining over 800 schools across Australia.  The Program will be fully implemented in 2016 but and planning and trials are already well underway. Proceeds from the market paid for School membership and the School's P&C has also contributed.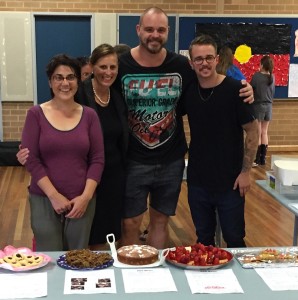 Building on this momentum, a new student event was tested at this year's fete: the Canterbury Produce Show.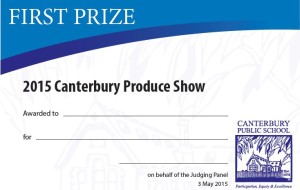 Like Australia's famous country shows, classes and divisions for grown or baked goods were judged in a highly professional way and exhibitors awarded certificates. Twenty two entries were received and with community support and a panel of four, including a judge from local café, Excelsior Jones, there was strong interest and much excitement. The potential exists for making it a stand-alone annual event with expanded classes and divisions including parents.
T
he garden continues to be supported by the family-led 'Garden Grunt' sessions where often the students on a weekend work alongside family members to get the heavy lifting done. Increasingly parents and carers are willing to offer expertise to address specific garden needs. They don't want to be at all Garden Grunt sessions but they provide special assistance when needed, making it efficient and effective. The activities also include making capital improvements and with the support of Canterbury Men's Shed, Canterbury Boys High School, two local businesses and a son of an irrigation farmer, potting tables and stage one of automated watering system are now in place. These developments coincide with us releasing an achievable staged 'Our Jobs' list on Facebook, posting it on our garden notice board, in the School's newsletter and direct email.
The key to the changes and
success has been the commitment and generosity of all involved in the school community. There is still, of course, much to do.  Next year, the School will be looking for community volunteers willing to work with students on a regular basis to deliver the prepared garden and kitchen lessons.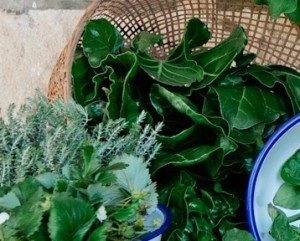 Like other SAKGF schools, Canterbury expects to see the results achieved in other schools of improved teamwork, greater application of literacy, numeracy and science in the outdoors and leadership. The markets are set to continue and evolve and with this, the Garden's growing role in the School's life.